February 13th, 2013 // 6:30 pm @ Michael Lorin Friedman
Client: Project Inform
Project: Action Alert to pressure California Governor Schwarzenegger to fully find HIV/AIDS commitments.
Delivery: Emailed to over 1,500 supporters, posted to Facebook, Twitter, reposted on TheBody.com
---
Client: Project Inform
Project: Article on the AIDS Drug Assistance Program (ADAP) for Project Inform Perspective, Project Inform's HIV Treatment Advocacy Newsletter. .
Delivery: Emailed to over 15,000 supporters, posted to Facebook, Twitter, reposted on TheBody.com
---
Client: American Humanist Association
Project:Article on Social Media in Burmese Revolution — The Revolution Will Be Transmitted: Web 2.0 and Upheaval in Burma
Delivery: Published in The Humanist Magazine
---
Client: American Humanist Association
Project:Article on First LGBT Humanist Pride being Awarded to Candice Gingrich-Jones
Delivery: Published in Humanist Network News
---
Client: American Humanist Association
Project:Article on Burmese Monks role in Revolution — Of Monastery and State: Politicized Burmese Monk's Brave a Revolution<
Delivery: Published in The Humanist Magazine
---
Client: American Humanist Association
Project: World Aids Day Statement
Delivery: 100,000+ email list
---
December 7, 2009 | projectinform.org
Save California's ADAP­­
California's AIDS Drug Assistance Program is under threat….
Dear Friends,
It's not even the holidays yet, but Governor Schwarzenegger has given people with HIV his gift early this year – a projected shortfall in California's AIDS Drug Assistance Program. ADAP provides life saving medication to lower income Californians living with HIV/AIDS.
Advocates have estimated, based on existing program data, that ADAP will need up to an additional $100 million in Fiscal Year 2010-2011 to meet demand. Without new funding added to the program, ADAP will be unable to serve all who need it. The result is that many HIV+ Californians would be without access to life-saving medications.
Some of the potential state proposals for dealing with the budget shortfall include a reduction in eligibility to 200% of federal poverty level (about $21,660.00 annually), applying cost sharing to the program, and the elimination of service to 36 municipal jails in California. All of these proposals will leave too many HIV + Californian's without their live saving medication.
So, what can you do?
Follow Project Inform's Save California's ADAP Facebook page and website section for more event information and continuing news on this pending crisis.
With the economic crisis and rising health care costs, it is projected next year that even more Californians will need the help of ADAP for their life-saving medication. If ADAP is not fully funded, many HIV+ Californians will get sick, and some will die.
ADAP is a life saving program which has allowed Californians with HIV/AIDS to live their lives fully, to do what they dream, and to live with dignity and health. Quite simply, ADAP equals life for over 35,000 Californians.
Thank you for your concern in this time of health care access uncertainty for too many Californians living with HIV/AIDS.
Sincerely,
Project Inform's Policy Team
Anne Donnelly
Director of Health Care Policy
Ryan Clary
Director of Public Policy
Michael Friedman
Program Associate
---
The Revolution Will Be Transmitted: Web 2.0 and Upheaval in Burma
The Saffron Revolution in Burma (officially Myanmar) is underway, and information is flowing out of the country (and back in) at a pace unimaginable to those who remember the 1988 uprising. This, in and of itself, is a revolution in crisis communication and real-time war reporting for the cloistered Burmese nation.
Blogs, often enabled with Internet chat boxes, have become the main tools in the Burmese people's media strategy against the misinformation (or utter lack of information) disseminated by the ruling Burmese junta. Hundreds of blogs from inside and outside Burma have been posting information in Burmese and English, hosting audio recordings translated into English, and bringing the world disturbingly graphic photos and videos of beaten and dead monks as soon as they become available. Global major news media, for one of the first times in the history of war reporting, are receiving their first-person accounts from these blogs. Media outlets then work tirelessly to verify the information with multiple sources, which is often a two- or three-day process. This information is then broadcast to the world by traditional print, audio, and video outlets.
Even more amazing than the blogs that inform Burma watchers of the horrors being committed against clergy and civilians is the path that information takes back into the country. As Burma has a very primitive internal telecommunications infrastructure, and there is no domestic freedom in news media, news of the ongoing conflict must make it outside the country before it can make it back in. Short-wave radio is the only reliable way to get information back into the country–and the only method the junta can't block. BBC, Radio Free Asia, Democratic Voice of Burma, and Voice of America all broadcast a Burmese-language radio service into the country. By broadcasting information contained in the aforementioned blogs, these radio services inform the people inside of what we on the outside learned hours before.
Bloggers are deploying front-line reporters equipped with all the technology an imbedded journalist in Iraq might have. A Burmese refugee I know of who's running a blog from Thailand has sent his coworker and dear friend into Burma equipped with a satellite phone. This man is risking his life to keep their blog up-to-date by getting first-hand information out with lightning speed. They now have a contact at CNN where they are sending photos and reports from inside Burma.
Web 2.0, the so-called second generation of expanded web communities and hosting services, has revolutionized the way major U.S. media outlets report news around the world. CNN now features stories collected by "iReporters," essentially news reports created and edited by non-traditional (read: unpaid) citizen journalists who submit their news stories for Internet and television broadcast. While Web 2.0, iReporting, and even blogging may have been launched in the Western world, the Burmese are adopting these platforms with amazing efficiency–transforming their localized struggle for freedom and justice into a worldwide event broadcast live to computer screens around the globe with the click of a button.
Here is a sampling of blogs leading the struggle against disinformation in Burma:
http://ko-htike.blogspot.com
http://www.abitsu.org
http://niknayman.blogspot.com/
http://burmamyanmargenocide.blogspot.com/
http://flamingpeacocks.blogspot.com/ http://flamingpeacocks.blogspot.com/
—
---
First LGBT Humanist Pride Award to Candice Gingrich-Jones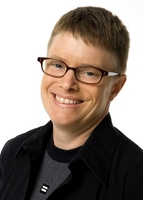 The American Humanist Association is proud to award its first LGBT Humanist Pride Award to Candace Gingrich-Jones. Mrs. Gingrich-Jones is an outspoken LGBT activist with a long history of supporting queer equality. She's also well-known for being an outspoken opponent to some of the views espoused by her brother, former U.S. House Speaker Newt Gingrich.
Roy Speckhardt, executive director of the American Humanist Association, said, "Candace Gingrich-Jones is a tireless advocate for one of the most important issues for the humanist community: full rights for LGBT Americans. The American Humanist Association is pleased to honor her vital work in the fight for equality."
Gingrich-Jones has received much attention as an author and influential LGBT activists. Gingrich-Jones is the author of "Accidental Activist: A Personal and Political Memoir," her 1996 biography which was a best-seller in the LGBT community. She is also frequently blogs for the Human Rights campaign, is a guest-blogger on the Huffington Post, and has appeared as a guest on Good Morning America and Countdown with Keith Olbermann. She also guest-starred as the minister in a groundbreaking episode of the popular sitcom Friends titled, "The One with the Lesbian Wedding."
She currently serves as the Youth and Campus Outreach Senior Manager at the Human Rights Campaign, the largest organization working for LGBT equal rights. In this position, she travels all around America to promote the importance of coming out, the power of the vote, and the important role of community dialogue in changing minds. She lives with her wife Rebecca in Hyattsville, Maryland.
Gingrich-Jones will be awarded the 2011 LGBT Humanist Pride award from the American Humanist Association during the Saturday Luncheon on April 9 at the 70th Anniversary Conference in Boston, Massachusetts. For more information on the conference and to register, visit www.americanhumanist.org/conference.
View article on Humanist Network News
---
Of Monastery and State: Politicized Burmese Monk's Brave a Revolution
Burma (known officially as the Union of Myanmar) is a deeply Buddhist nation, steeped in conservative, ancient Theravada tradition. Since 1962 Burma has been ruled by an oppressive military junta that claims legitimacy through Buddhism and governs in the purported image of the great Buddhist kings of yore. In short, no figurative wall separates monastery and military state in this socially repressive, economically depressed, and technologically deprived South East Asian nation of roughly 50 million people.
For centuries, Burmese leaders have claimed legitimacy through the practice, protection, and promotion of Buddhism in a similar tradition to the kings of Thailand, Cambodia, and Vietnam. Buddhism has in it a special place reserved for reverence of enlightened rulers who make laws using and upholding Buddha's teachings, namely tolerance, understanding, compassion, and purposeful social action. It is therefore the nation's monks who, as the clergy performing sacrament and accepting alms, signal to the people that the government is upholding those compassionate teachings.
But even a passing glance at the various annual reports on the disastrous human rights situation in Burma makes clear that the junta isn't walking in the shadow of Buddha or the ancient Burmese kings, but instead marches with the minions of the likes of Pol Pot and Mao Zedong.
On August 15, 2007, the Burmese military dictators, rich with profits from natural gas fields in the Indian Ocean, raised gasoline and natural gas prices by up to 500 percent, citing global rises in fuel prices and a constricted supply. It served as the straw that broke the camel's back as small protests erupted in many cities around the country. Growing in fervor and size every day during late August, despite threats of retaliatory action by the generals, these first protests in almost ten years in Burma brought international attention once again to the despotic regime and its suffering people. As the protests gained momentum, the junta physically assaulted protestors and attempted to incite rioting using plain-clothed security forces. The junta had used these same tactics rather effectively during the failed 1988 uprisings, but things would be different this time. Because this time, the monks took the lead.
A core belief in Theravada Buddhism is that practitioners must be responsible for freeing themselves from oppression. This stands in contrast to the more altruistic Mahayana tradition, which puts emphasis on freeing others from oppression. Because Burma is steeped in conservative Theravada tradition, it is only natural that the Burmese monks, who have been politicized by the ruling junta, would be rising up against that military regime. And in honoring their responsibility to free themselves from the chains of oppression, these monks—seen as the conscience of the country—also serve as moral support to the disenfranchised, abused, and neglected Burmese people.
On September 18, 2007, the monks of Burma took to the streets of Rangoon, Mandalay, and many other large cities to mark the nineteenth anniversary of the 1988 military crackdown and to show their solidarity with the ongoing protests. Following seven more days of largely peaceful demonstrations, with crowds as large as 500,000 joining with the clergy in demanding the junta step down, the military did what everyone feared was inevitable—they used force, shooting into unarmed crowds, beating protesters, and sending injured and bloodied monks to local hospitals.
According to reports from Aung Din of the U.S. Campaign from Burma, security forces stormed the Ngwe Kyar Yan Monastery in Rangoon on September 27 at 2:00 AM. Local residents crowded around the monastery told of soldiers lining up the monks one by one, and bashing their heads against the brick monastery walls until they were lifeless. The senior abbot was tied up in the middle of the room and forced to watch while being tortured to death himself.
In the morning, the photographs illuminated a scene of utter horror—blood-stained concrete floors and a saffron sea of torn monks' robes scattered about. "Doors of the monasteries were broken, things were ransacked and taken away," one witness reported to Reuters. "It's like a living hell seeing the monasteries raided and the monks treated cruelly."
Neighbors converged on the monastery to establish a makeshift clinic for the remaining wounded monks. Inevitably, the soldiers returned at 10:30 AM to detain the remaining monks, prompting clashes with the people of the South Okkalapa Township. Thousands came out to block the roads and a tense standoff ensued. Crowds were finally dispersed with tear gas. Similar clashes took place all over the city in the days that followed, with up to three thousand monks arrested and hundreds more killed. Disturbing photos of a bruised and bloated monk floating face down in a river surfaced on the Internet.
As the scenes unfolded before the world—scenes at once fear-filled and graphic, conflicting and compelling—human rights advocates, humanists, and citizens alike asked, "What can we do?" Western nations have had far-reaching trade and travel restrictions in place on the Burmese junta for ten years, and they've therefore found support elsewhere—in China, India, Thailand, and Singapore. Especially intertwined is their relationship with China, where trade has increased over 50 percent in the last year between the two nations and where at least sixty Chinese state-run companies are involved in joint projects with the Burmese junta and it's ruling class. The pressure at the UN and the White House needs to be on China for its key role in supporting the illegitimate junta militarily and economically. The United States should immediately freeze international bank accounts of top Burmese officials under Section 311 of the Patriot Act. The junta depends on a supply of hard currency laundered through banks in Singapore and China, and that lifeline can be cut off.
What about international military involvement? In truth, pushing EU powers, the United States, or the United Nations to intervene militarily in Burma is futile. China and Russia will always prevent UN Security Council intervention, because they designate Burma's violent encounters with its people as internal affairs that don't "compromise international stability." The best the Security Council could do when the crackdown began was to issue a statement pressing the junta to accept the visit of the UN Special Envoy Ibrahim Gambari to the region and urging the junta to use restraint, something the regime had shown not to possess historically. Bush chided the Security Council for not taking international human rights seriously enough, but what would really motivate him to take forceful action? At the end of the day, it simply isn't feasible for the overburdened U.S. military and the war-weary American people to enter into a land war in Asia (remember Vietnam?). The same is true for the people of the European Union, and their governments will be even more reluctant to intervene in Burma given their oft-corrupt colonial histories and lack of capability to project military power.
And so the question repeats, what can we do? The most the world can offer the Burmese people is moral support. Global citizens must show their solidarity with these brave people and their monks, and oppose continued military rule in Burma. This is no small aid. Worldwide candlelight vigils, protests at Myanmar embassies all over the world, activities on college campuses, the U.S. Campaign forBurma's 88,000-signature petition sent to the Chinese government pressing them to stop supporting the Burmese junta, and, most importantly, the transmission of these efforts to those inside Burma through photos, web postings, and word of mouth will show the Burmese that the world supports them in their struggle for democracy and justice. They will know our thoughts are with them. And this may just give them the moral fortitude they need to continue their struggle in the face of oppression. It's what we can do; it's what we must do.
---
World Aids Day Statement
On Thursday, December First, World AIDS Day, we remember the tens of millions of lives lost to the 30-year-tragedy that is the AIDS epidemic. Since 1988, World AIDS Day has been a commemoration of those lost to this epidemic, those living with HIV/AIDS, and those supporting them. Today, we stand with the many Americans and those abroad who are living with HIV and those who work tirelessly to comfort them.
Two years ago, the American government lifted its ban on funding of syringe needle exchanges. Last year, President Obama crafted America's first-ever National HIV/AIDS Strategy, the Vatican changed their prevention stance, stating condoms should be allowed for HIV prevention, and The New England Journal of Medicine announced that a prophylaxis of an anti-retro-viral drug (Truvada) was shown to be 73 percent effective in HIV prevention in those who were highly adherent. Though there have been these and many more recent reinforcements of hope in our struggle, we must remember and fight towards the ultimate goals — 100% prevention, the most effective treatment and a cure.
We must continue to fight for HIV-positive Americans without access to quality health care or lifesaving medication. The patchwork American system of HIV treatment has multiple inadequacies. The AIDS Drug Assistance Program (ADAP), which provides free or low cost anti-HIV medication to all Americans, is in a massive fiscal crisis with over 4,000 people in 9 states on waiting lists for their live-saving medication. It is our advocacy, support, unity and attention that will help address this challenge.
We must fight for HIV-negative Americans whose lack of access to HIV prevention and education may make contracting HIV inevitable. With parts of America having virtually no on-the-ground prevention efforts for high-risk groups, more resources are needed for HIV prevention. And every year, more Americans contract HIV, with well over 60,000 yearly transmissions.
We must engage, empathize with and inspire those whose sense of reason is overshadowed by lore and superstition. Medically sound safer sex education must replace emotionally wrapped abstinence-only education. And we must always promote those treatments that are empirically proven effective, and work to dissipate treatment and prevention myths.
We must think and act globally towards universal access to life-saving medication and the extension of all benefits of HIV prevention and treatment to everyone in the world.
To end the scourge of HIV, our greatest tools are Prevention, Treatment, Education Action and Compassion.
TAKE ACTION:
…Alone or with your Humanist and Atheist Group…
Promote HIV testing and get tested yourself. Knowledge is power.
Participate in a local HIV/AIDS charity such as an AIDS Walk. The money raised by these efforts save lives.
Encourage your local government to sponsor condom distribution and clean needles programs. The federal funding ban has been lifted, so your locality can apply for federal money for these efforts.
Challenge local abstinence-only education and rhetoric. These programs do not work, are dangerous and are grounded in religiously biased ignorance.
Volunteer to help HIV community service organizations. Over one million Americans are living with HIV and your volunteer hours make a world of difference.
Get involved in state and federal HIV Prevention and Treatment Advocacy. Find out more information about the domestic AIDS Drug Assistance Program crisis and what you can do help.
Let this World AIDS Day serve as a call to action to fight towards a day where no one is forced to live with HIV — a day where the AIDS epidemic serves only as a reminder of the destruction of ignorance and inaction. Let today offer us humility in our common humanity, gratitude for each other and a deep hope that one day soon, AIDS will be only a distant memory.
---
National ADAP Crisis
The AIDS Drug Assistance Program (ADAP), part of the Ryan White program, provides prescription assistance to low-income individuals living with HIV. ADAP helps over 165,000 HIV positive Americans maintain their health by providing access to life-prolonging drugs.


ADAP is now in the most serious crisis since its inception, with over 6,000 individuals on waiting lists for their life-saving medications in 10 states: Arkansas, Florida, Georgia, Louisiana, Montana, North Carolina, Ohio, South Carolina, Virginia and Wyoming. Many more states have been forced to implement cost-containment measures that further restrict treatment access. While the crisis varies state to state, federal and state funding has not kept up with the financial needs of the program. In addition, the economic environment has caused unusually high unemployment. Many people have lost their health insurance and are forced to rely on ADAP and other public health programs.


In response to the government's inadequate response to this crisis, advocates from across the country are working tirelessly at the state and federal levels to increase funding and avoid more cuts. Two innovative actions have helped to alleviate the crisis. The first is the development of the Welvista program. The second is the recent successful advocacy effort to ensure treatment access for those who will be removed from Florida's ADAP for a two-month period.


Last year, advocates from the Fair Pricing Coalition (FPC), co-founded by Project Inform, worked with the Heinz Family Foundation, Welvista and the pharmaceutical industry to develop a program to ensure that people on ADAP waiting lists would automatically qualify to get their HIV meds from a central location rather than having to apply to each company patient assistance program separately. This new program is run by Welvista, a non-profit mail-order pharmacy based in South Carolina. While this program allows people to easily access some meds, it falls far short of filling the ADAP funding gaps left by federal and state governments.
Most recently, the FPC also worked with the state of Florida, Welvista and industry to avoid a major crisis in that state that would have doubled the overall number of people affected by the ADAP crisis. Florida planned on removing 6,500 people from it's ADAP for a two-month period, due to a program funding shortfall. Advocates negotiated a temporary program through Welvista to provide medicines to all 6,500 Floridians affected. The process aims to be seamless for recipients, with all information transferred from Florida's ADAP to Welvista. Local social workers will be trained in how to transition clients to Welvista and then back onto Florida's ADAP in April when it expects to receive the necessary federal funding.


Project Inform continues to prioritize ADAP advocacy at the national and California state levels so that people with HIV/AIDS have stable access to treatment as we move towards health care reform implementation. As a co-founder of the grassroots Save America's ADAPs, a national citizen response to the ADAP crisis, we also mobilize constituents to tell their elected officials to fully fund America's ADAPs. For more information on what you can do to help solve the ADAP crisis, contact Michael Friedman.
Category : Portfolio